Growing in Jesus' Name
a community where you belong
We are a friendly church on Longboat Key that celebrates God's love for ALL through meaningful worship, music, study, fellowship, and mission.  We welcome all people on their quest to understand God's love and presence in their lives. Christ Church members and visitors are able to honor God through our many Mission outreach programs.
We invite you to join us. Whether you are a long-time church-goer, or someone newly exploring faith, you will be warmly welcomed. 
God's love, grace and spirit envelops us as we become a unified body of Christ.

 
Our worship service starts at 10:00 AM EST every Sunday. We have a traditional worship style and strive to make it easy to follow along and engage in worship. Casual or dress it up—we'll be happy to see you. Come as you are!
We invite you to participate in our worship service, either in our Sanctuary or at home, through our live streaming worship service.
"The exceptional preaching, music program, good choir, outstanding organist, Fellowship.  You can pick and choose programs of interest to you —  winter concerts, Wednesday night dinners, Christ centered"
QA:  "The pastor, the people, the fellowship is what makes CCLBK special.  Christ Church is a hidden gem on Longboat Key.  We learn from Bible studies.  We volunteer at Missions – reading buddies, hope seeds etc.   We participate in book clubs, bible studies, mah Jong and many more.  Such a great church". 
A warm, joyful congregation that cares for each other in deeply meaningful ways. A place for message and meaning. . 
"I am constantly impressed by the members' dedication and commitment to living out the word of Jesus by serving the needs of all of His people.  Mission work is clearly a priority and they are truly making a positive impact on humanity".
"What a joy it is to be a member of Christ Church.  We visited many places of worship on our travels and Christ Church certainly topped the list.  It was a sad day when I had to move, but despite the separation, the loving kindness from members is overwhelming even to this day.  My thanks seems so inadequate to all of you".
When we moved to the area, we visited several churches. We were the youngest people there. Then we visited CCLBK, there was no more looking. From the moment we entered, we knew we found our new church home – full of friendly, caring, giving people.
On Sunday, December 3, we are delighted to welcome Dr. Julia Wharff Piermont as our new full-time pastor.
Her obvious caring, compassion, friendliness and spirituality impressed all of us in our nationwide search for leadership. Her most recent service was Senior Pastor for Worthington Presbyterian Church in Ohio.
She and her husband Dennis, immediately fell in love with Longboat Key and have just moved into their home here.
Please join us in this wonderful celebration for our church and community.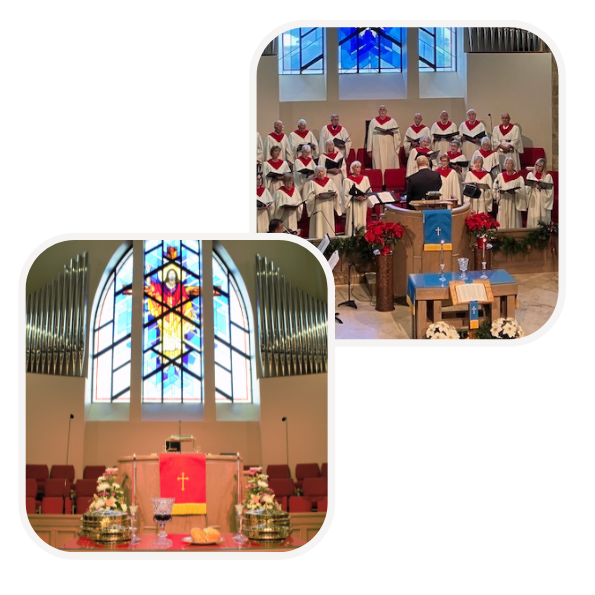 We welcome you to reach out and we would love to connect with you. Whether it's joining us on Sunday morning, serving alongside us in missions, or seeking prayer for something in your life. Call on us, our church is open for you